I finally – 100% for real this time – put my winter coats into storage. Therefore I thought it was time to celebrate the official start of spring by having a margarita. Nothing says the start of warm weather like tequila.
We will get to the margs but first I am also going to blow your mind at the alliteration that was going on in my life over the weekend.
This week marked me being one year older and instead of celebrating with a cake I threw a Brown (sugar) Biscuit, Bacon, Bloody (mary) Bar Birthday Brunch.
I don't call this Butter Me Up Brooklyn for nothing.
A bloody mary bar is just about the best way to have a party. Make a few pitchers of mix the night before, dig out your ice bucket and set out little bowls filled with toppings like cheese cubes, bacon, tiny pickles, olives, and some sort of spice purchased in a Mexican gas station last summer.
First step: set up a little bar. Glasses, ice – a tiny spoon that snuck its way into the shot – and you are good to go.
Put some picks in the middle of a platter and surround it with bits of awesome. The cheese cubes were a homage to my friend who hails from Wisconsin (lovingly known as 'Sconnie). I trust her on all matters related to cheese.
Last but not least, no brunch would be complete without the Best donuts around. Which just so happen to be from Peter Pan Bakery in Greenpoint.
So, yeah, that happened.
I also made Bourbon Black (cocoa) Brownies. They didn't get a chance to shine behind the camera but were adapted from their boozy red wine chocolate fudge cousins. Swap bourbon for wine, black cocoa for unsweetened cocoa, and a little sprinkle of flaky salt. They are party superstars.
Finally, I give you margaritas.
Fresh blackberries make for a dang pretty cocktail. Jalapeños sass it up. Sweet and spicy.
Using agave is a margarita shortcut. Most ratios call for triple sec. I say when the mood strikes for a marg and you don't have triple sec, agave will work just fine.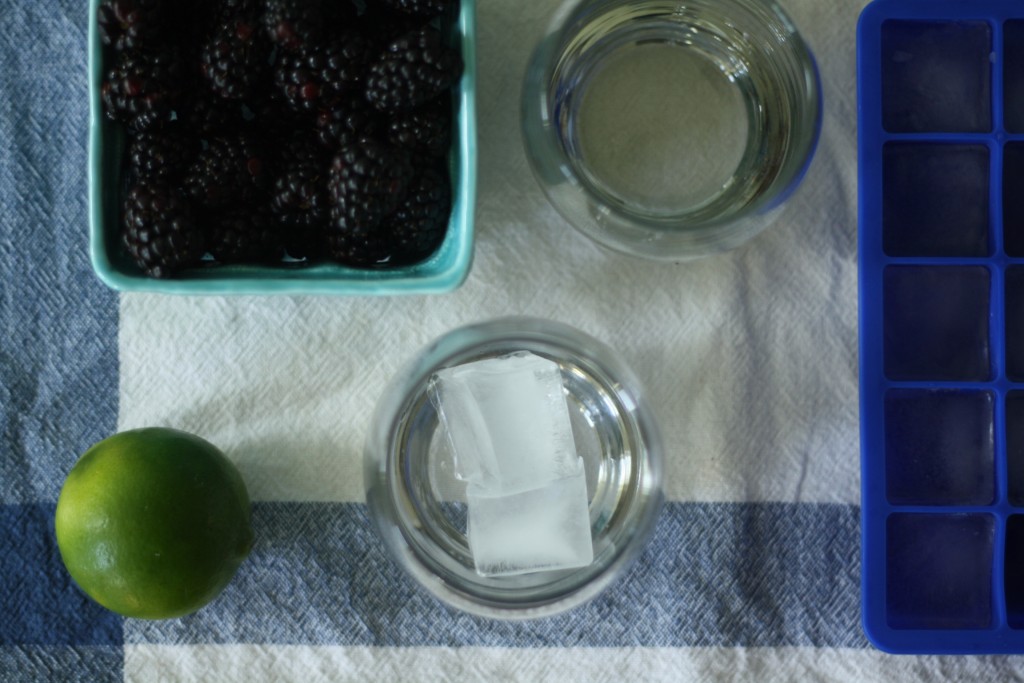 Plus tequila is made from the blue agave plant. This means that they are practically the same thing and are pretty much made for each other.
Jalapeños are the best part of this cocktail.
They infuse a hit of spice into every sip. Muddle a slice (or two!) with blackberries and a lime. Shake in some agave and tequila. Glam up your happy hour.
Try it. Your cocktail agenda will be thankful.
Blackberry Jalapeño Margaritas
For each cocktail:
2 shots (3 ounces) tequila
2 large spoonfuls agave syrup
3 blackberries
1 jalapeño slice (2 slices if you are feeling spicy!)
1 lime, cut in half
blackberries and lime slices, for garnish
Muddle together blackberries, jalapeño, the juice of one lime and the lime halves in the bottom of a cocktail shaker. Add tequila, agave, a few ice cubes and shake vigorously.
Strain into an ice-filled cocktail glass. Garnish with several blackberries and a lime slice.