I need to learn how to juggle.
I need to learn not just for the awesome party trick aspect but because each summer I write down a list of things that I would like to accomplish and this year I added "learn how to juggle" to the list. Why? The next time you are waiting in line at a party for a beer, please think to yourself how entertaining it would be if someone started juggling lonely bar limes to pass the time. Juggling is not just for people who ride unicycles and wear brightly colored pants anymore.
I wish I could say that this awesome person at the party will be me, but it will absolutely not be. My excuses include: juggling is way harder than it looks, my practice time has been lacking of late and let's just say summer is slipping by with each sunny afternoon.
I bet you are curious of what else could be on my list. Well, I will tell you one thing I did accomplish. It was number seven:
7. Make something that tastes like a doughnut but is easier, i.e. no frying of anything in oil
Here is the thing: I love doughnuts.
I could eat a doughnut at most points of any given day. I have been known to eat them for breakfast, for lunch, for dinner, and most definitely as a late-night snack.
But here is the other thing: they are not the quickest and easiest thing to just whip up when the craving strikes.
Everyone should try their hand at from scratch doughnuts at some point in life but unless you keep a vat of frying oil handy for such occasions, I offer a very, very close option to curb your craving – no oil required. When you start thinking things like, "I can not wait one more second. There must be a doughnut in my close proximity. Right. Now." Make these.
Do you remember when I made that swell little summer fruit number that looked like a cake but tasted like a cobbler?
Well I have another baking trick up my sleeve. These beauties look like muffins but taste like cake doughnuts!
Bust out your mini muffin tin kids because that is the only special equipment you will need. Everything else I bet you have in your pantry right now.
One of the other aspects I enjoy about doughnuts is the variety. Very rarely am I faced with only one option of doughnut to choose from, so I have created three different toppings to enjoy with these mini doughnut muffins – chocolate glazed, cinnamon sugared, and jelly-filled.
Muffins are made. Chocolate chips are melted and sprinkles are sprinkled. Sugar is powdered and cinnamon sugar is dusted.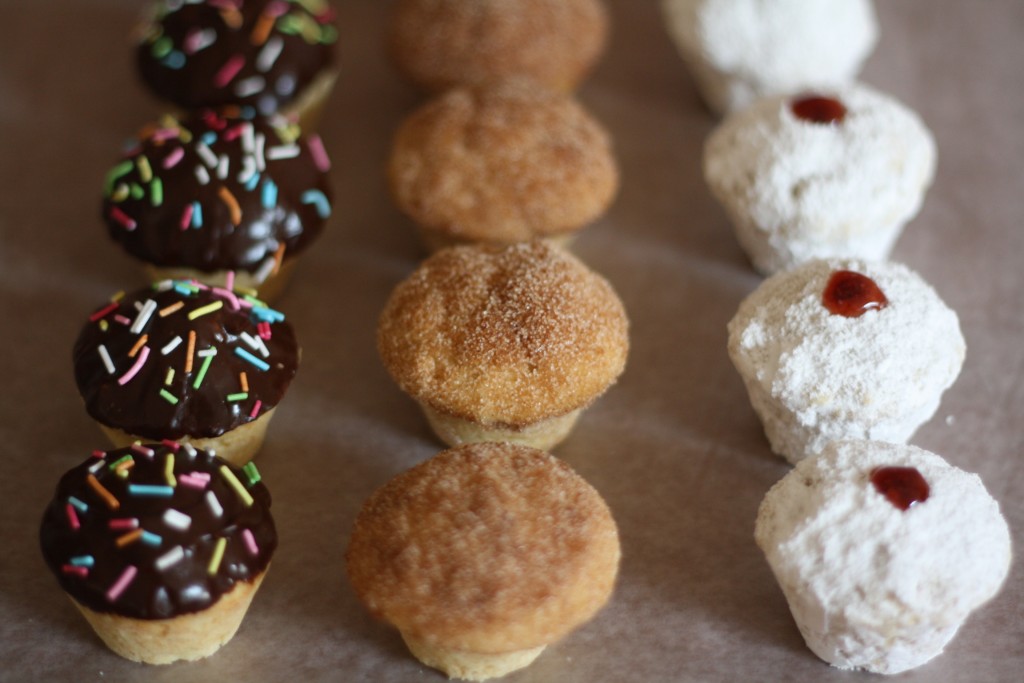 Before you know it one and a half dozen mini doughnut muffins are ready to be eaten. I guarantee they will curb your doughnut craving. Well at least for a short while.
Mini Doughnut Muffins
Makes 16 mini doughnut muffins
Adapted from Fine Cooking
For the doughnut muffins:
1 1/2 cup (187 grams) flour
1 1/4 teaspoon (5 grams) baking powder
1/2 teaspoon (2 grams) salt
1/2 teaspoon (2 grams) ground nutmeg
1/8 teaspoon baking soda
6 tablespoons (85 grams) butter, room temperature
1/4 cup + 2 tablespoons (75 grams) sugar
1 egg
1/3 cup (78 ml) buttermilk
For chocolate glazed:
1/2 cup chocolate chips
1 tablespoon heavy cream
sprinkles, for decorating
For jelly-filled:
1/4 cup strawberry jelly
1/2 cup powdered sugar
For cinnamon sugared:
1/4 cup sugar
1 teaspoon cinnamon
2 tablespoons butter, melted
Make the doughnut muffins: Preheat oven to 350. Butter and flour a mini muffin tin and set aside.
In medium bowl whisk together the flour, baking powder, salt, nutmeg and baking soda. In a large bowl cream together the butter and sugar until light and fluffy, or about 2 minutes. Add the egg and beat until combined.
Add about a third of the dry ingredients to the butter mixture and beat until combined. Then add about half the buttermilk until incorporated and continue alternating between the dry ingredients and buttermilk. Finish with the dry ingredients.
Scoop the batter into the prepared pan and use a spatula to smooth the top so the top of the batter is flush with the rim of the tin.
Bake for 14 minutes or until a tester comes out clean. Transfer muffins to a rack until cool.
Make the chocolate glazed: In a small bowl set over a pan of barely simmering water, slowly melt the chocolate. When melted, remove from the heat and whisk in the heavy cream until smooth. Dip five of the doughnut muffins into the glaze, let each stand for several seconds to briefly set then decorate with sprinkles.
Make the jelly-filled: Fill a pastry bag fitted with a small tip with jelly. Place powdered sugar in a resealable plastic bag and toss five of the doughnut muffins in the sugar. Insert the tip about halfway down into the center of each doughnut muffin and gently press the pastry bag to fill with jam. Dust with additional powdered sugar if needed.
Make the cinnamon sugared: Combine the cinnamon and sugar together in a small bowl. Dip the tops of five doughnut muffins in the melted butter then roll each generously in the cinnamon sugar mixture.
Note: Decide what variety you'd like as your one extra doughnut muffin and consume immediately as your bakers' reward. Mine was cinnamon sugar.