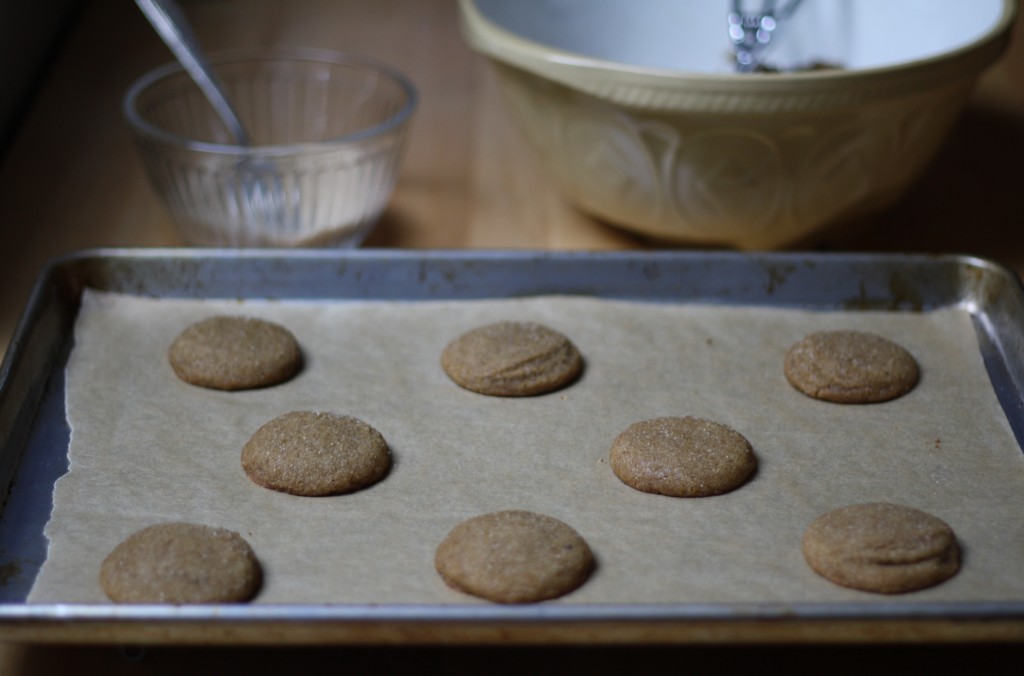 These cookies are the baking equivalent of the phrase "don't judge a book by its cover".
This humble cookie is one that I will admit doesn't look like much from the get-go. There is no jazzy brightly colored hat with sparkles and bells and whistles to catch your attention. They could easily be passed up for a more exciting treat or something that has at least one single chocolate chip and/or a spicy pecan.
These cookies remind me of my first cat whom I rescued as a stray when I was seven years old because when she came into my life, she didn't look like much at first glance. Side note: while we are on the subject and because I haven't changed much since then, she was appropriately given the name Cupcake.
I found her behind an old beat-up van on a Saturday afternoon and she was tiny and scraggly and honestly not the nicest of cats. But to me, she was a gleaming, golden ray of feline sunshine. Miraculously – and by promising to clean my room for all of eternity – I convinced my mom to let me take her home and the love began.
Cupcake begrudgingly put up with a lot. Not every cat will let you take it for walks on a leash but for reasons unbeknownst to me, she tolerated it. At some point during these years she got the unfortunate nickname of "Cuppie" which is quite possibly the worst cat nickname of all time and perhaps due to this, she drew the line at wearing doll clothes.
Cuppie may have never gotten over her scraggly roots in the looks department but she had a heart of gold. And it is what is on the inside that counts, right?
At first glance, these cookies don't seem like they are going to be the center of the dessert-platter-party. But one bite later and I guarantee the only thing you will be able to say is, "Wowza!"
Brown butter and brown sugar are a match made in cookie heaven. The simple act of browning butter turns these cookies into something special. Brown sugar and a kiss of espresso helps to coax out the coffee toffee flavor.
They are chewy and soft in the middle and slightly crispy at the edges and generally just plain awesome. These cookies will make a friend or two or ten, depending on how many batches you can whip up.
And isn't it about time to get your holiday bake on!?
Espresso-Kissed Brown Butter Brown Sugar (Coffee Toffee) Cookies
Makes about 2 dozen small cookies
Adapted from Cook's Illustrated via CHOW
For the cookies:
8 tablespoons (1 stick or 113 grams) unsalted butter
1 cup (200 grams) brown sugar, packed
1 1/2 teaspoons vanilla
1 teaspoon espresso powder (also called instant espresso; I use the Medaglia D'Oro brand)
1 egg yolk
1 cup + 1 tablespoon (135 grams) flour
1/4 teaspoon baking soda
1/4 teaspoon baking powder
1/4 teaspoon salt
For the final toss:
2 tablespoons (25 grams) brown sugar
2 tablespoons (25 grams) sugar
Preheat oven to 350. Line a baking sheet with parchment and set aside. In a small bowl whisk together the sugars for the final toss and set aside.
Cut 2 tablespoons (28 grams) of butter into small pieces and place in the bottom of a medium bowl. Set the bowl aside.
Next: brown that butter! Melt the remaining 6 tablespoons (85 grams) of butter in a medium skillet set over medium heat, stirring constantly, until it begins to foam. Continue to cook and stir until the foam subsides and milk solids begin to form on the bottom of the pan. Keep a close eye on the pan and turn down the heat if things start to get too toasty. When the butter has deepened in color and smells wonderfully nutty, turn off the heat and pour the butter (and all those tasty brown butter bits) into the bowl with the remaining butter.
Stir to combine until all the butter has melted, then add in the brown sugar and mix well. Add the vanilla, espresso powder and egg yolk and stir until smooth. In a small bowl briefly whisk together the flour, baking soda, baking powder and salt then add the dry ingredients to the brown butter mixture and stir to combine. The dough may seem a bit on the crumbly side.
Use a scoop to drop one ball at a time into the small bowl of sugar for the final toss. Roll the ball around until covered and place on the prepared sheet. Bake for 8-9 minutes or until the edges of the cookies are lightly brown. Let cool on the sheet for several minutes then transfer to a wire rack to cool completely.